Happy Spring!
The Roses Are Blooming Beautifully This Year at Our Gravity Garden!
I just finished planting our garden and hope to host a healthy potluck party this summer and would love for you to join us.
Here is some news and inspirations coming your way from my wellness center.
We hope you are doing well and hope to see you soon!
Take care,
Donna Perrone
CNN: Morgan Spurlock, the Academy Award-nominated director of "Super Size Me," tells compelling stories from an insider's perspective on a diverse range of topics – from America's trash epidemic to living on Bitcoin.
Morgan and his crew visited GEV last week to film an episode featuring our Infrared Sauna! Donna Perrone got to to interact with Morgan on camera. Stay tuned to when the show will air on CNN.   
http://www.cnn.com/shows/inside-man
When Was Your Last Colonic?
It is that time of year that we are enjoying the outdoors and want to feel light, energetic and attractive. It is interesting to me how people take care of their teeth by seeing a dentist twice a year for a dental cleaning. However, many of us overlook the need for an intestinal cleanse to clean the internal plumbing!
Dr. J.H. Kellogg, who administered colonics to his patients back in 1917 touted the benefits in the Journal of the American Medical Association. He wrote about how we are literally poisoning ourselves into illness when the bowel evacuation is deficient.
When impacted waste matters are along the bowel wall, toxins can be reabsorbed and can affect the body's tissues, cells, immune system and can eventually trigger illness.
Our colon can be looked at as a conveyor belt. We eat a meal and we should get something out. Most people are lucky if they have one bowel movement a day. There are so many reasons why we become constipated. Think about the about of food you consume and how much comes out. Come in for a Colonic and all of our experienced Certified Therapists can discuss with you ways to improve digestion and feel great.
Call us today.. Gravity East Village  212 388 9788 or for existing clients TEXT: 646 494 1865.
Learn more by visiting our informative website:  http://www.gravityeastvillage.com

Brian Clement Events..
Last week I attended Brian Clement, of Hippocrates Health Institute – FREE events in NYC. It was an informative and well attended venue. I appreciate the work Brian is doing for a better planet featuring 'The Real Truth About Health.' Thank you Brian and all the volunteers, such as Neal Cooper that made the week great and that I had the opportunity to promote 'Accent On Wellness' and 'Gravity East Village.'
Let's Get Down to the Nitty Gritty on All Those Questions You Have Concerning:
'Raw Food Lifestyle'
How do I get started?
What do I eat?
What are the benefits to increasing the amount of raw food in my diet?
Do I need to be 100% raw to feel any benefit?
Will I get enough protein?
Will I lose weight?
Will I feel better?
Will I start to detox?
What do I do when I socialize?
What do I do when I travel?
How do I handle my food cravings?
Do I need to take supplements?
What are super foods?
Can I eat a lot of fruit?
I still feel hungry after I eat a salad.
My family and friends think I am weird.
It's too expensive.
I don't have the time.
I just have trouble sustaining a diet rich in raw foods. Help!
Go ahead and pick my brain! You will see me on the Webinar, yet only your voice can be audible. You can speak or write your comments and questions. Please keep all outside sounds in the room quiet if choosing to speak.Disclaimer: I am not a doctor and do not give advice, or diagnosis. This forum is for general educational purposes and I recommend that if you have any concern about your health that you contact your health care professional.
IT'S FREE!
Please let me know that you will attend and I will send you a link that you will open at the time of the meeting. You can participate or observe. You can share this link with anyone you wish!
Tuesday, June 16, 2015
8 pm – 9 pm EST
You can log in at any time.
Please RSVP your full name and phone # to confirm to donna@gravityeastvillage.com or call Gravity East Village 212 388 9788. Please plan this in advance so I can send you the link.
EVENTBRITE:

PLEASE BE RESPECTFUL OF MY TIME. IF YOU CANNOT ATTEND PLEASE LET ME KNOW IN ADVANCE!
To learn more about Donna Perrone @
http://www.accentonwellnessnyc.com
http://www.gravityeastvillage.com



Calling All Women! Attend a GODDESS GROUP!
Book Circle – School Of Womanly Arts by Regina Thomashauer aka Mama Gena

ALL GODDESSES ARE WELCOME TO ATTEND & EXPLORE THIS BOOK!
Have you heard of Mama Gena? Well, I am a graduate of her Mastery and Creation courses at The School of Womanly Arts.. I have had a life changing experience and major shift in my life as a result of exploring what it means to be a woman in today's world.
I would like to bring a taste of what it means to be a Sister Goddess to you by starting this book club. Each month we will read from Mama Gena's first book, 'The School of
Womanly Arts' and research many of the ideas presented such as:
-To Identify Our Desires
-Create a World of Pleasure and Fulfillment
-Love and Accept Ourselves as We Are and Embrace Our Beauty
-Have more Abundance and Success
-To Get Unstuck
-Explore How to Have Greater Success with Men
-To Befriend your inner Bitch
-To Celebrate what it Means to Be a Woman Today!
Study Books will be provided. Exercises will be explored. This will be a Sharing Circle.
The aim of this group is to uplift every woman and to create a life that goes beyond your dreams and expectations!
All the Best,
Donna Perrone aka Sister Goddess Detox Diva
Goddess Group is for Women Only!
FRIDAY, JUNE 12, 2015
7 pm – 9 pm
Gravity East Village
515 East 5 Street
btw: Avenue A & Avenue B
Keypad: 104 'Bell' Symbol Button
PURCHASE YOUR TICKET IN ADVANCE THROUGH EVENTBRITE:
TICKETS MUST BE PURCHASED IN ADVANCE – By 2 pm on June 12
PLEASE RSVP – SEATING IS LIMITED
Please email your full name and phone # to donna@gravityeastvillage.com
You will be called the day of the class to confirm your attendance.
Join Brian ClementJune 2nd, 3rd, & 4th to learn about The Real Truth About Health
Meet Brian Clement PhD LN at this free seminar on health and wellness.Brian has been a world leader on health and wellness for over 43 years and is the Director of Hippocrates Health Institute in Florida.
Brian will share with you the real truth about health and how you can begin to feel better than ever.
Brian has spoken worldwide and been featured on TV and radio and has been written about in magazines and newspapers all over the world.
When you attend this free seminar you'll get a discount coupon that's good for saving money on Hippocrates' life transforming health and wellness program.
Seating is limited and you'll need to pre-register at
http://truthabouthealth.eventbrite.com
All three events are free!
Learn how to unlock the door to longevity and vitality!
All Attendees are eligible for 10% off 3 week Life Transformation Program
($600.00 Minimum Value)
Tuesday June 2 @ NYU Film Center
36 EAST EIGHTH STREET NY NY
6:30-8:30PM (DOOR OPEN AT 6:00)
http://truthabouthealth.eventbrite.com
Wednesday June 3 @ Lubvitch Yeshiva
570 CROWN STREET BROOKLYN NY
7:30-9:30PM (DOORS OPEN AT 6:30)
http://thetruthabouthealth.eventbrite.com
Thursday June 4 @ The Graduate Center, CUNY
365 Fifth Avenue New York, NY
6:30-8:30PM (DOOR OPEN AT 6:00)
http://realtruthabouthealth.eventbrite.com
Brian Clement Ph.D., L.N.
Brian Clement, Ph.D., L.N. has spearheaded the international progressive health movement for more than three and one-half decades. He is the Director of the renowned Hippocrates Health Institute, Florida (U.S.A.), the world's foremost complementary residential health center. Over the last half century he and his team have pioneered clinical research and training in disease prevention using hundreds of thousands of participants who provided volumes of data, giving Clement a privileged insight into the lifestyle required to prevent disease, enhance longevity, and maintain vitality. Their findings have provided the basis for Hippocrates progressive, state-of-the-art treatments and programs for health maintenance and recovery—their Life Transformation Program.
Brian Clement has written 20 plus books focused on health, spirituality and natural healing. Among them are "Living Foods for Optimum Health", "Longevity", "Lifeforce", which Dr. Colin Campbell calls "One of the most important books ever written on nutrition. "Supplements Exposed," published in 2010, reveals the pharmaceutical fraud rampant in the sales, production, and distribution of worthless and harmful vitamin pills. Additionally, the first volume of Brian Clement's 3 Volume Series, "Food is Medicine" was published in 2012 along with his "7 keys to Lifelong Sexual Vitality."
Brian Clement is a devoted husband and a caring father of four, who along with his wife, Anna Maria Gahns-Clement Ph.D., L.N., Co-Directs the Hippocrates Health Institute. In addition to his research studies, Clement conducts conferences worldwide on attaining health and creating longevity, giving humanity a roadmap for redirecting, enriching and extending their lives.
A Licensed Nutritionist, Brian Clement is a graduate of the University of Science, Arts, and Technology where he earned his Ph.D.
Do you have more questions? We would be happy to answer them!
Hippocrates Health Institute Program Consultants: (561) 623-1002
or Contact the host at MJFGOGETTER@YAHOO.COM (216) 214-2668
NEWLIFE Health & Wellness Expo
Hotel Pennsylvania – New York
05/29/15 – 05/31/15
401 7th Ave New York, NY 10001
Donna Perrone @ New Life Expo!

Come Check It Out!
LECTURE: Friday, 7 pm
Understand: the Principles of Health, the Benefits to Increasing The Amount of Raw Food in your Diet, Meal Plan Options & Recipe Ideas, the Common Sense of Food Combining and the Gentle Transition needed to incorporate these key elements into a Healthy Lifestyle! Donna Perrone is a certified Colon Hydro-therapist with her own wellness center 'Gravity East Village', and the facilitator of the raw food group, "Accent on Wellness" since 1995.
NUTRITIONAL PANEL: Friday, 8 pm –
with Dr. Robert Young, Donna Perrone, Dr. Sergey Kalitenko, James Min., Peter Goldberg, Pamela
You Are What You Eat. Learn about how Nutrition,Superfoods, Raw Foods, Cleansing, Acid-Alkaline Balance and Different Diets affect our emotional physical and spiritual health as our experts discuss how Nutrition has emerged as an alternative and adjunctive therapy for virtually all areas of health care. Learn about how to choose a diet and what supplements to take. The nineties have shown that learning the proper diet and nutrient supplementation is the key to health. Medical research has shown that nutrition is necessary in the prevention and treatment of cancer, heart disease and diabetes. The National Cancer Institute has stated that over 30% of all cancers could be avoided through diet modification and as much as 90% could be prevented if environmental carcinogens are avoided." This is going to be a must see for the health conscious individual given by these leading nutritionists. Remember "You Are What You Eat." This is our most controversial panel.  
Meet Louisiana Zinn
Your Spiritual Consultant.


Are You Psychically Awake? Louisiana is a highly respected professional psychic with an established track record. Zinn connects with hearts, minds and souls of her clients, using her special abilities to help them envision their future and guide their own destiny. She offers a holistic approach to success – one that connects the heart and mind…and allows you an opportunity to take control of your personal, professional and physical fates.
Fate versus free will. Destiny versus determination. Do we control our future? Our personal and profession success? Our health and well-being? Or is it Preordained by a higher power, a force greater than ourselves?
Louisiana asserts that the answer is not an either-or. Instead it is a yes to both.
Our future successes and well-being require both a discovery of individual destiny and a willingness to take action. Or, in other words, self-empowerment based on a combination of fate and free will.
Is this odd? No. Motivators – whether discussing sales enhancement or good managements skills — have been saying the same for years. But where they've used words and statistics, Zinn provides specific tools: Manifestation, Meditation, Visualization, Spiritual counseling, Holistic healing.
Her presentations include:
~Motivating from Within
~Abundance & Prosperity
~Metaphysics for Success
Her easy-to-learn, practical techniques help others to discover their own personal identities, as well as, to empower themselves toward action.
Call for information about individual sessions.
Schedule your appointment with Louisiana Zinn at Gravity East Village 212 388 9788.
INTRODUCTORY OFFER
Schedule a session with Louisiana and receive $20 OFF the regular price of $200.
That makes a 50 minute session $180!
The offer is available till June 1st.
Gravity East Village   515 East 5 Street NYC   http://www.gravityeastvillage.com

Listen To My Interview With Louisiana Zinn!
On the topic of psychic development.GO HERE TO LISTEN:
http://gravityeastvillage.com/radio-show/the-good-health-workshop-with-donna-perrone/
Sunday, April 26, 2015
1:30 pm – 3:30 pm
Integral Yoga Institute
227 West 13th Street
(between 7th and 8th avenues)
Cost: $25.00 Includes Handout Information PackageTo register in advance to secure your seat:
or call (212) 929-0585
Just about everyone has gallstones. They are formed in the liver and are found also in the gallbladder and the connecting ducts. When doing a gallbladder/liver flush you can pass hundreds of green and beige colored gallstones. Gallstones are primarily made of cholesterol as the main ingredient (95%), bile, and calcium salts. They are congealed clumps of bile that are invisible to any x-ray or ultra sound technology. An ultra-sound will detect a fatty liver when the cholesterol based stones are blocking the liver and ducts and will show a completely white picture instead of black. A fatty liver can accumulate 20,000 stones before it succumbs to suffocation and ceases to function.
Gallstones are a contributing factor to most diseases. Any obstruction in the body will cause stress and toxicity and will be a major reason why people become ill and have difficulty recovering from disease.
By doing a gallbladder flush you will take steps to restore your liver. You will improve your health, vitality, energy, and youthfulness. A cleaner liver brings a new lease on life. By decongesting the liver and gallbladder the body's 60-100 trillion cells will breathe more oxygen, receive sufficient amounts of nutrients, eliminate metabolic waste products, and maintain perfect communication links with nervous system, endocrine system, and every part of the body.
There are two methods of doing a gallbladder flush that we will discuss. You will decide which method best suits you. There is a 4 Day or 6 Day 'Preparation' to choose from. We will cover step by step instructions and you will receive a handout information package. I will be available to take your phone call if you have any questions during your process at no additional charge.
Hello Subscribers To Gravity East Village,
I am pleased to announce that I am hosting a monthly internet radio program called
'The Good Health Workshop'
on
http://www.NYTALKRADIO.net
I will host the show along with Rhio, Bob Dagger – High Vibe store, and Leigh Crizoe.
You can listen to SHOW #3 – podcast at:
http://accentonwellnessnyc.com/vitality/
 Join Host Donna Perrone when she interviews professional Psychic, Louisiana Zinn on the topic of psychic development.
 Donna Perrone, Host                      Louisiana Zinn, Guest
Check Out Other Archive Shows!
By In 2008 – 2009, Donna Perrone and Michael Perrine hosted 'Vitality' an internet radio program through NYTalkRadio.com.Listen to Vitality archived at: http://gravityeastvillage.com/radio-show/archived-programs-vitality-radio-show/
Enjoy interviews with David Wolfe, Dr. Fred Bisci, Lalita Salas of Ann Wigmore Natural Health Institute, Viktoras Kulvinskas, Matt Monarch, Paul Nison and more!Special Thanks to Pete Calandra for his musical contribution.
You can find his music on itunes!
Time to Clean House!
Lighten Up at Gravity East Village!
  It is Spring Time! It was a long cold snowy winter and spring has finally arrived in NYC! Indeed, New Yorkers are very eager and grateful to have some good weather. Finally!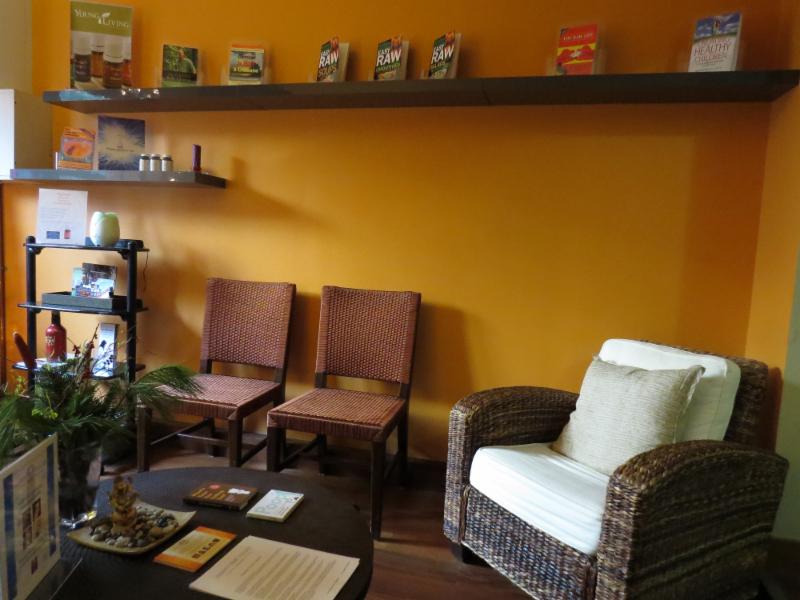 Spring is a great time to cleanse your body with the use of many of our services.
CAN YOU FEEL YOUR BODY GETTING HAPPY AT THE THOUGHT?
Some great tips for rejuvenation is to lighten up your food intake by adding more fruit, salad and veggies to your meals. The plant based foods move through the body cleanly and are energetically sound to turn on your detox faucet!
Drink vegetable juices, green smoothies, savory raw blends that will nourish your body and has a life force that will make for a more energetic YOU!
Spring Time Is A Great Time To Recharge And Start A New!
Whether you are ready to start a fast or just want to do a little Spring Cleaning of your
body a
Colonic
can help you feel your best! Colon Hydro-therapy can aid your colon to clear unwanted waste, cellular debris, mucus, fats, toxins, unfriendly microbes, gas/bloat out of the body. A true cleansing experience involves a colon that avoids reabsorbing waste materials.A colonic is not just about clearing the large intestine
it supports the whole body!
Click Here To Learn More: 
The Real Truth About Food Comes Out In The End..
Gravity is offering
Coffee Enema
sessions! Your session will include aromat
herapy, a castor oil pack and two coffee enema rounds. Coffee Enemas are a great way to cleanse your liver and you can take advantage of a special price when you schedule a Colonic and Coffee Enema package! Call Gravity and we are happy to answer your questions.
Click Here To Learn More:
Enjoy a private
Infrared Sauna
session at Gravity! Sauna sessions are great for
improving circulation, relieving pain, detoxing heavy metals, chemical toxicity, and for removing lotions/makeup from your skin. We are exposed to heavy metals in our environment everyday and it is essential to include ways the body can rid itself of exposure. A sauna session is a wonderful way to relax in our brand new sauna.
Click Here To Learn More:
When was your last
Therapeutic Massage
? Did you know that Gravity has two wonderful licensed M
assage Therapists? Barbara and Marcela can help move the stiffness out of your body, work on those difficult areas, create better circulation and help you to feel better and become more relaxed!
Treat yourself with self care!
Click Here To Learn More:
http://gravityeastvillage.com/services/massage-therapy/
Have you always wanted to experience a cleanse but not sure how to proceed? Donna Perrone teaches workshops such as Liver Cleansing/Gallbladder Flush, Juice Fasting/Nutritional Cleanse, 7 Ways To Detox Your Body, Candida Cleanse, Parasite Cleanse, and Raw Foods/ Vegan Lifestyle.Schedule a
Nutritional Consultation
to get started or fine tune what you know to achieve greater success!
Donna can meet with you at Gravity or counsel by phone or Skype.
Donna is a trained QRA Practitioner – Quantum Reflex Analysis, which is a Japanese technique of muscle testing. She can help determine what Nutritionals are needed.
Donna will test you with Premier Research Labs fine quality supplements.
Click Here To Learn More:
Gravity East Village is located downtown, and we offer:       
Two Colon Hydrotherapy Treatment Rooms,
State of the Art Filtration System,
Private Infrared Sauna Sessions For One or Two people,
Therapeutic Massage Therapy,
QRA – Quantum Reflex Analysis,
Nutritional Consultations,
Reiki,
Sound And Vibrational Healing
Have any questions? Please contact us to schedule an appointment.
We have a staff of certified therapists available if you would like to come in with a friend.
Gravity East Village
515 East 5 Street
between Avenue A  Avenue B
Keypad: 104 'Bell' Symbol Button
Check out our improved website that includes video bios of our therapists!
HAPPY SPRING!
Gravity East Village, Inc.
Introducing Elspeth Kincaid…
Reiki Sessions Available at Gravity East Village
What is Reiki?
 Reiki is a Japanese healing technique which literally means universal life energy in Japanese. It's based on the principle that through the palm of the hand one can channel energy from the Universe into oneself or another person, which then activates the natural healing processes of the body and restores physical and emotional well-being. What is the benefit to getting reiki?
Reiki has an enormous amount of healing benefits which include the following:
Frees the mind which helps promote concentration and eliminates headaches and stress
Aids to physical pain
Helps promote the elimination of toxins on the body, which heightens energy and aids sleep
Dissolves energy blocks which promote balance between mind, body and spirit
Ignites spiritual growth and emotional healing
Creates deep relaxation
http://gravityeastvillage.com/services/reiki/
Fabulous Rate On Reiki!!
The Price for a Reiki Therapy session is
Schedule your appointment by calling Gravity East Village 212 388 9788.
Check out our new and improved website
Elspeth Kincaid has been studying metaphysics for over ten years in areas such as astrology, numerology, and tarology. Never to tell the future, Elspeth is committed to use such tools to bring about self awareness. "I believe that self awareness is essential in the process of healing. Those who want to be healed, know they need to be healed." These studies, which brought about self awareness in her own life, immediately led Elspeth to search out experiences in holistic practices such as acupuncture, colon hydrotherapy, and reiki. Through this process, Elspeth encountered life changing spiritual transformations that led to physical and emotional health. "Because of my own miraculous healing experiences through reiki and other holistic practices, I have dedicated my life to serving others in the form of healing."
Soon there after, Elspeth began to study reiki and has received her reiki certification from The New York International Center for Reiki Training, First and Second Degree Reiki, taught by Ana and Carlos Gonzalez. Reiki is a Japanese healing technique which literally means universal life energy in Japanese. It's based on the principle that through the palm of the hand one can channel energy from the Universe into oneself or another person, which then activates the natural healing processes of the body and restores physical and emotional well-being.